Racing Organizations
AA/Supercharged Gasser Shootout
NHRA Lucas Oil Drag Racing Series
National Events
U.S. Nationals at Indianapolis, IN.
Daily Results MAC Tools U.S. Nationals
2011 California Hot Rod Reunion
NHRA Lucas Oil Drag Racing Series
Drag Strips
Firebird International Raceway
Pomona Fair Grounds 2011 Winternationals
Southwestern International Dragway
eMail:

Racing Links
Don Garlits Museum of Drag Racing Ocala, Fl
Jr Thompson Drag Racing Legend
Great Lakes Dragway Hall of Fame
Bob Finders Chassis components RBP Mfg.
Racing Publications, Magazines
Teams We Support
Our Venders
Check Back Soon... We're In the building Stage
Chuck Finders Engineering
P.O. Box 35812
Tucson AZ. 85740-5812
Photographers Page
Welcome to Chuck Finders Engineering...
The Primary Photos listed in this poster are available for purchase! Please contact these Photographers while you still can. They're worth giving a shout for a beautiful photo of many of your Favorite Racers from back in the day and even some Current Champions. Look em Up!
As a courtesy... Be sure to let these guys know you're purchasing a photo because you visited us! Thank You.
---
---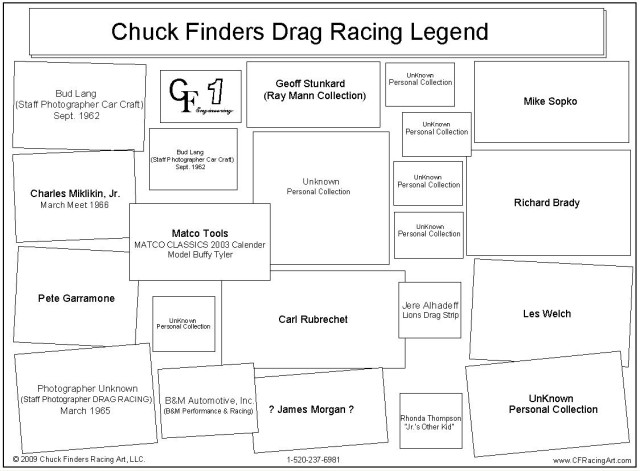 All These Guys Are Real easy to work with... Tell em you saw the Picture in the "Chuck Finders Drag Racing Legend" poster, and they will know exactly what photo you're talking about!
Please Visit the Photographers below to Purchase their Works!
Photo's by Bob Wenzelburger
Photo's by Carl Rubrechet
Charles Milikin Jr. Photo's
Ray Mann Vintage Racing Photos
John Durand Photography SmugMug
John Durand Photography
Jere Alhadeff
Mike Sopko Photography
Pete Garramone Photo's
Richard Brady Photo's
Les Welch Color Photography
Restless Designs "Jr's Other Kid" (Rhonda Thompson)