Chuck Finders History
Updated 9-8-2011
Welcome to the Chuck Finders History Page
Every effort will be made to keep this "History Page" as accurate as can be verified. The Cars included here are Cars Owned, Built or Raced by my Dad. I will update and add pictures here on a regular basis. Please donate photos to this collection so I can share with everyone. This is the one gift my Dad left behind... "A collection of Memories, Both in Steel, Fiberglass and Photos". My brother and I were lucky enough to get "Project Builds" that he was a part of. I'll share these as they progress. Some of you have Cars he built, some have Memories, I guess I just want to share all the "Hot Rods" he was a part of.

He told me he thought he had built or had a part in thousands of Cars (he was talking about 2,000+ cars). He told me at one point he was building a "Car a Week". Hard to believe, but in doing all this research I believe he probably was involved in a couple thousand cars (in his lifetime). Anyway, I hope you enjoy this web site and all it has to offer. Please help to Preserve this History.

If I'm in error, please drop me a line with details so I can make corrections. If I have photos of yours here, and you wish to have credits or be removed, please notify me in writing and I'll abide by your direction. "I have No intentions of Ripping anyone off" just to document my Dad's Racing History or that of other cars and racers he was associated with.
Chuck Finders Jr.
---
---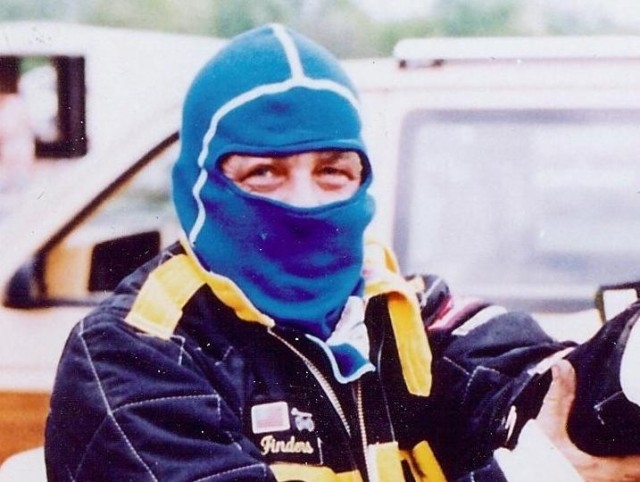 I never got to see my dad race, well as a kid I remember, but as an adult, I only saw photo's of him racing. My brother made a few trips back to Ohio and went racing with him a few times but I've only seen him race in photo's. My trips always turned into "Working/Fabrication" trips. I helped do the final setup for the front suspension on Jim Brewer's "Wheel Stander" Cadillac seen below.
---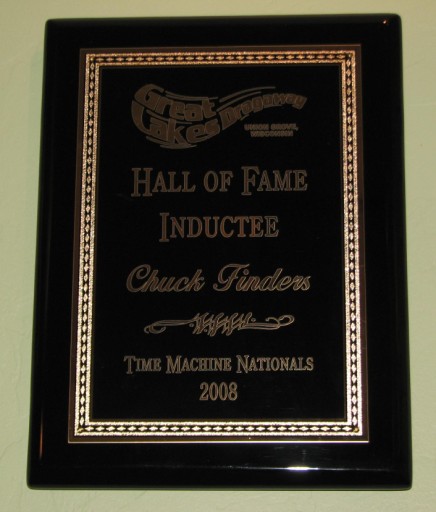 Inducted at th 2008 Time Machine Nationals. My dad never told me and my brother when these events were happening, we would usually hear about them after the fact "or read about them" and Dad would tell my brother and I "it's no bother". I still feel his contributions to Drag Racing are not fully appreciated! I sat on the sideline and watched him give his Life to Drag Racing and still dream of seeing him take his rightful place in History, Ya he was rough around the edges but he was also humble in his own way.
---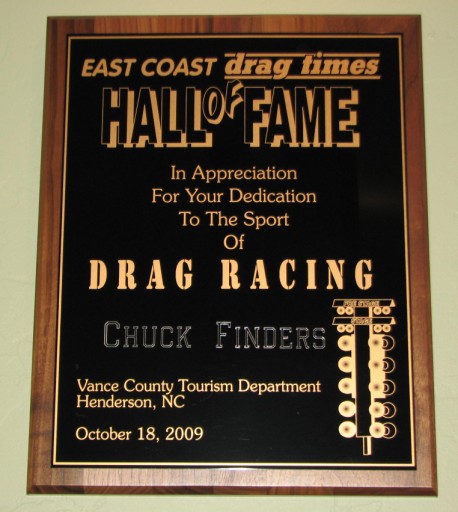 The folks at Vance County Tourism Department sent this plaque to me and my brother, this was shortly after his death in 2009, still a pretty rough time, It was really something to talk with the team out there and see how much they thought of him! These two Plaques are the only Trophies we have from a 50+ Year career in Drag Racing, I do and I don't understand how in the World he did not keep these things?
---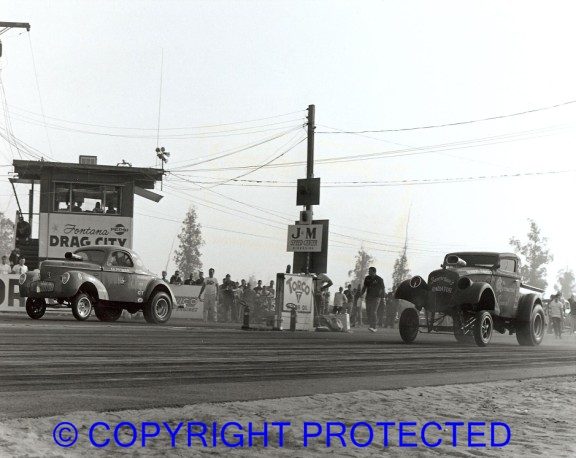 Race at Fontana 1965-66 Cal Automotive Special Truck, against KS Pittman. This is some time before the truck was turned into or built as the Ron Bizio truck, this truck had a variety of configurations, when my dad was building Jack Coonrod's Car in 66 they even put the motor from Jack's Car in the truck and took it to the races (Not this shot).
If anyone comes across a shot with "Jack's signature Bear Motor Scoop" on it, Please share the photo, that night or the next night they ran and won that nights event. They actually took the truck out to two different events while building Jack's car.
---
---
Jack shared many stories about touring from his early days, this group of shots was from one of those tours, several of the cars in these shots are cars built by my dad. These shots were taken at New England Dragway in 67 on one of those tours.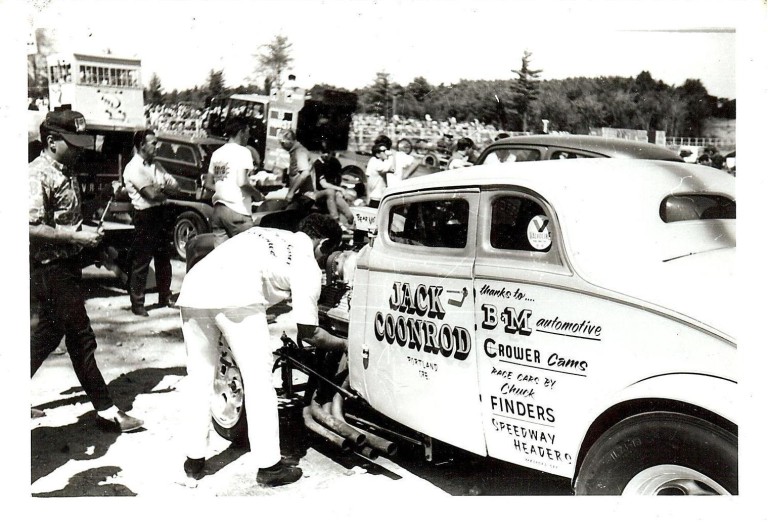 Chuckie, GOOD MEMORIES!!! That is your dad working on our car, he was also driving in those days, it is Epping N.H. "thatís me standing behind him with the ball cap on" the year would be 1967 as I can tell by the paint job on the car. J.C.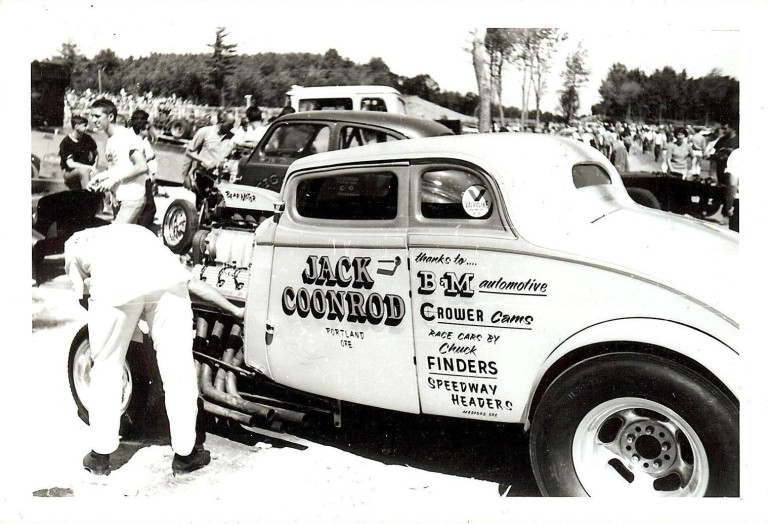 Dad, wrenching on Jack's car. You can also see Jr. in the upper part of this photo, just above the "Bear Motor" Scoop, right in front of the Big John's Austin.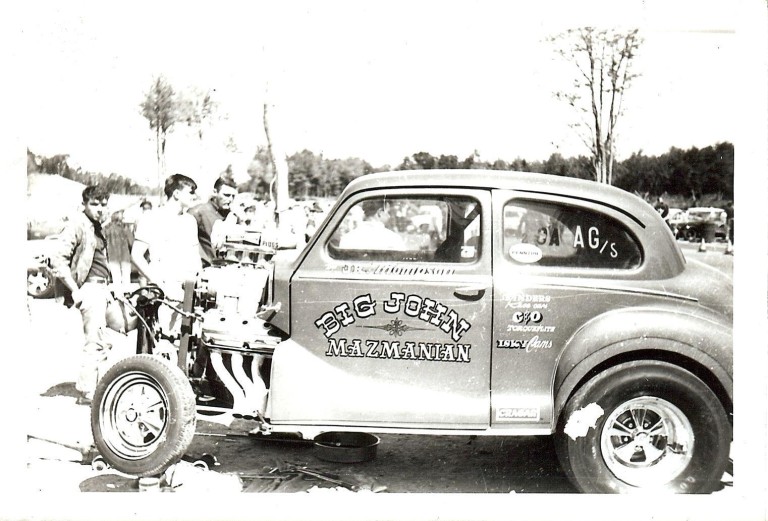 Jr. toured this car all over the country!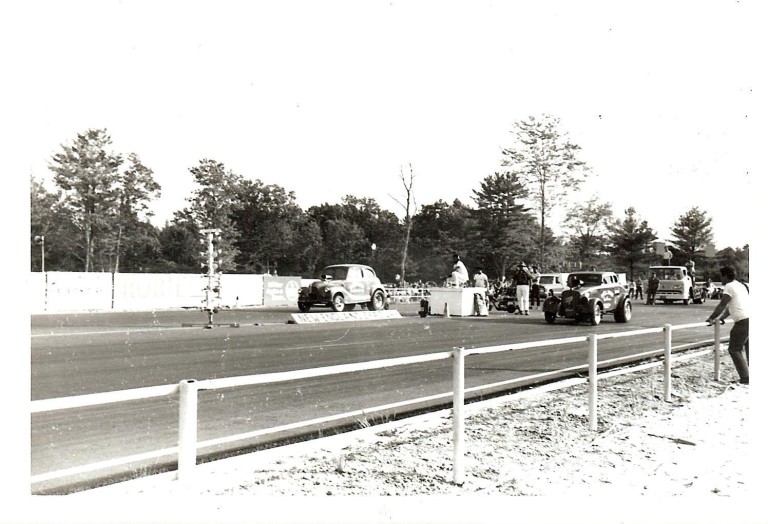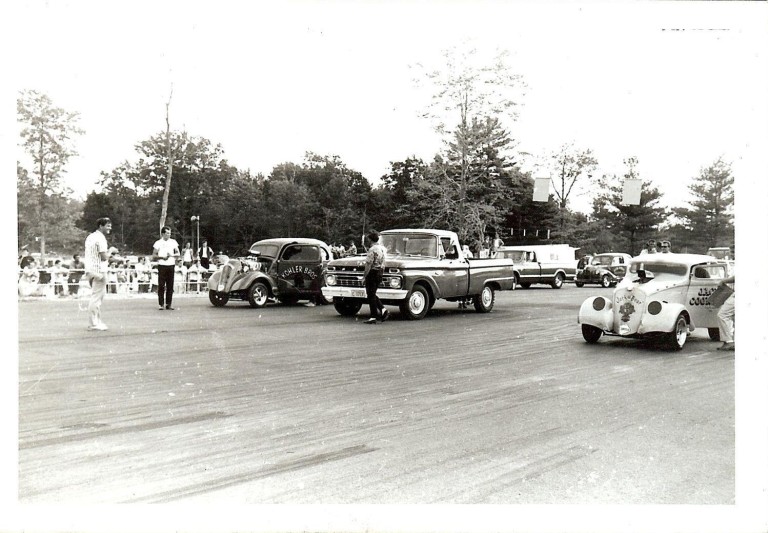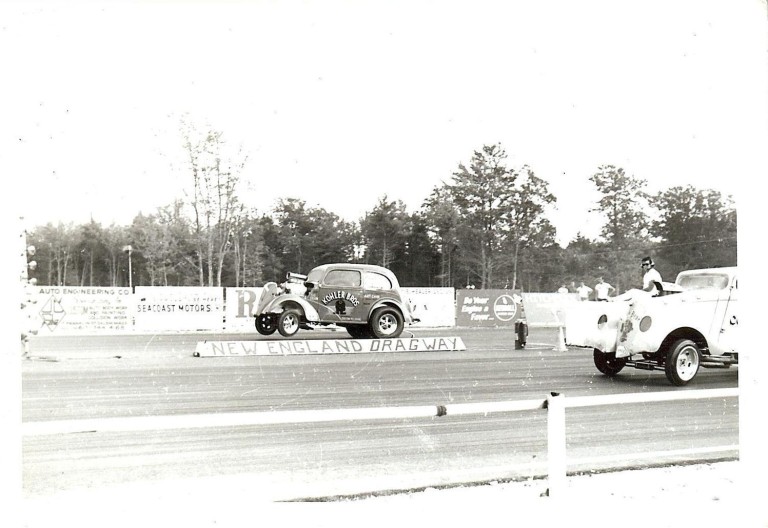 "It looks like Kohler has a hole shot on us? Don't remember who won the race, but in my museum I have all the records of every run ... those Anglia's had a real high r.p.m. stall speed that we didn't have, so they were always out first but most of the time we could catch them before the finish... they were also lighter and shorter wheel base cars. J.C."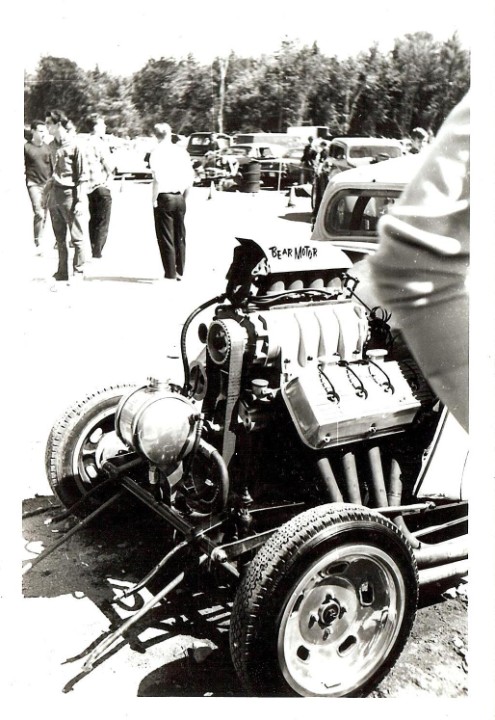 Here's a shot of the "Bear Motor" that was in the Cal Auto Special, I talked about in the previous set.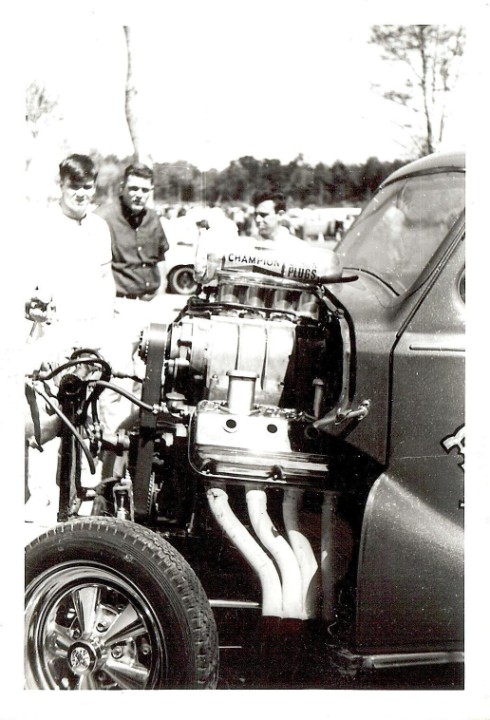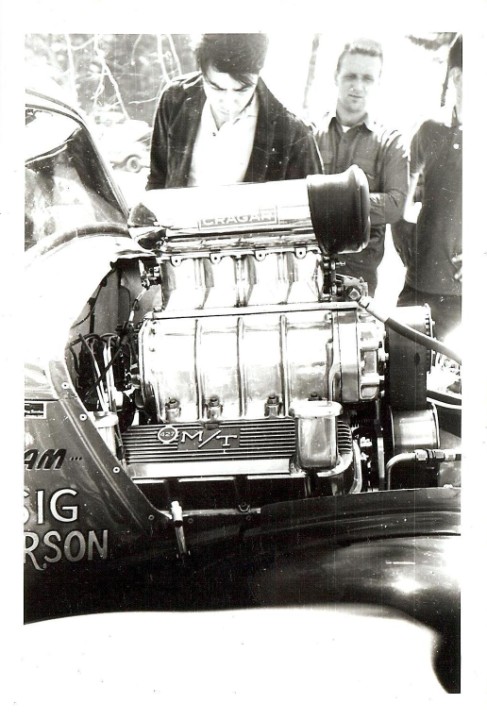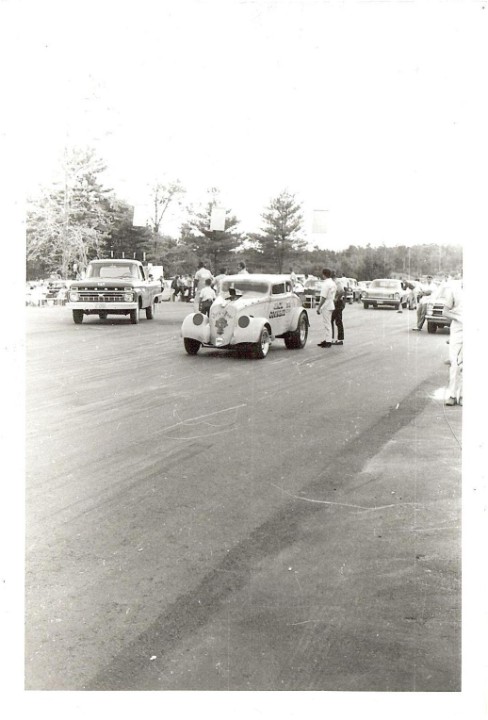 That would be my Dad standing next to Jack's Coupe... with the white shirt.
---
Another Perspective on the "Tour"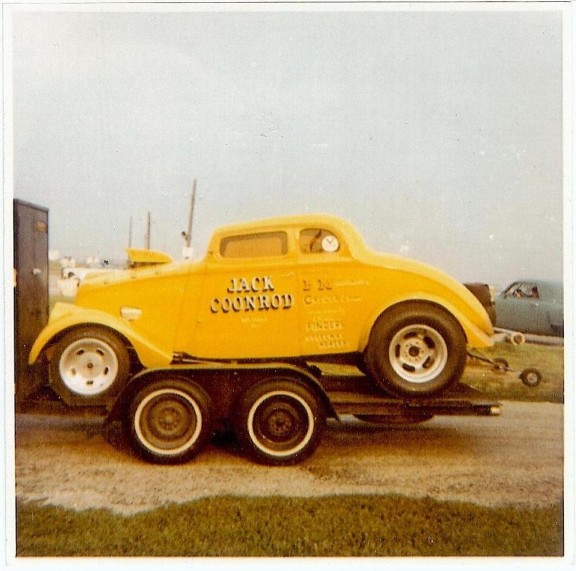 Don't know anything about these Color Shots, I know in conversations with Jack he shared that he was not a part of the early tour when my dad was Driving the Stone Woods & Cook "Swindler A". Jack told me he met up with the tour after they had gotten started and were heading East, I'm not sure if these color shots are from the same time frame "Stone Woods & Cooke does not apperar in the Black and white photos so I suspect it is after his time with that team.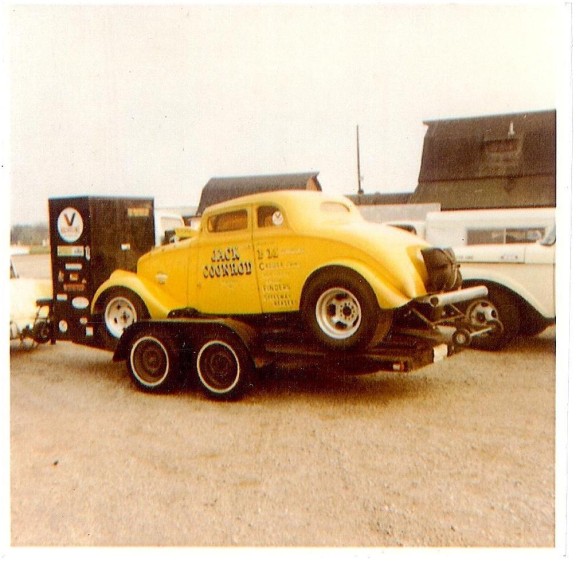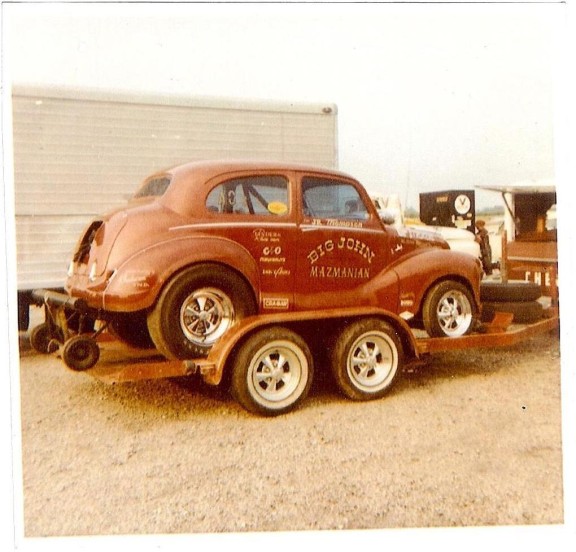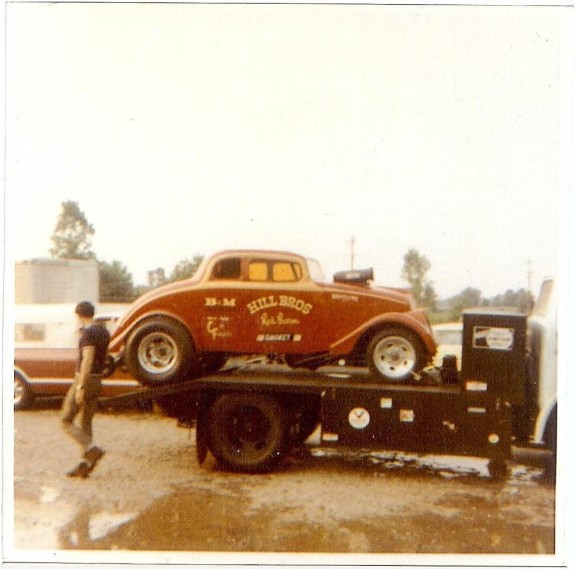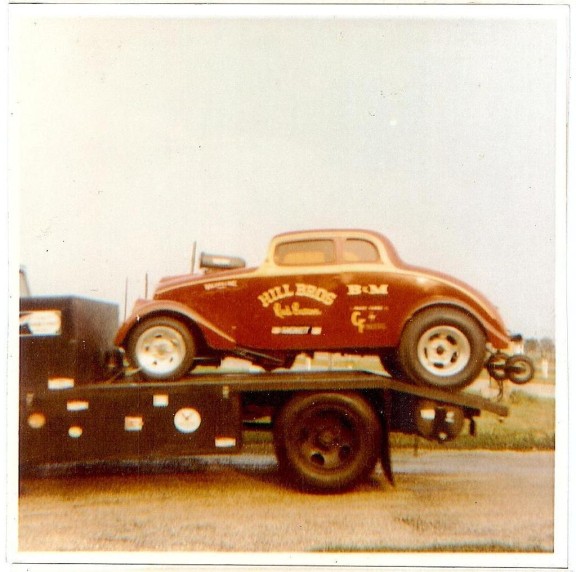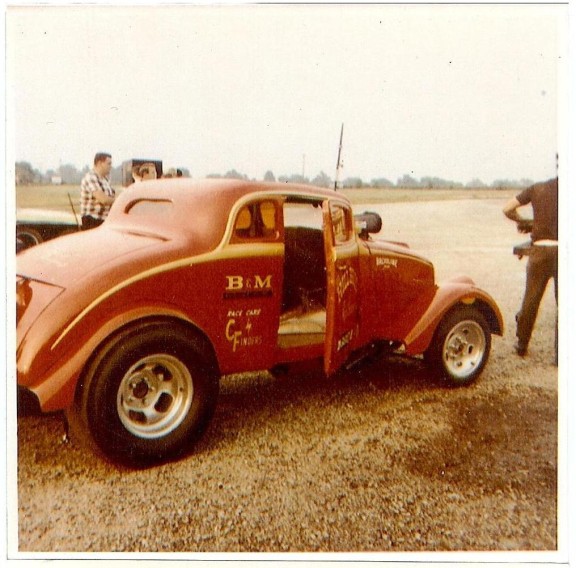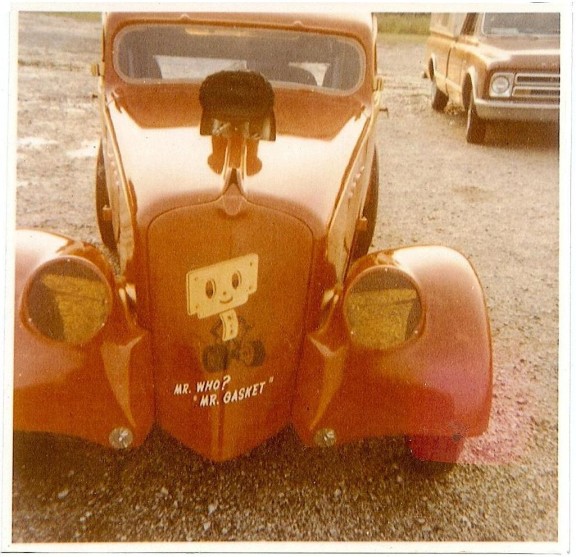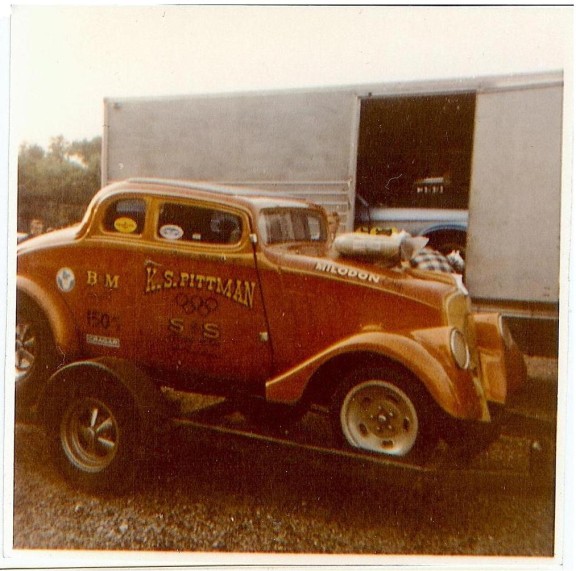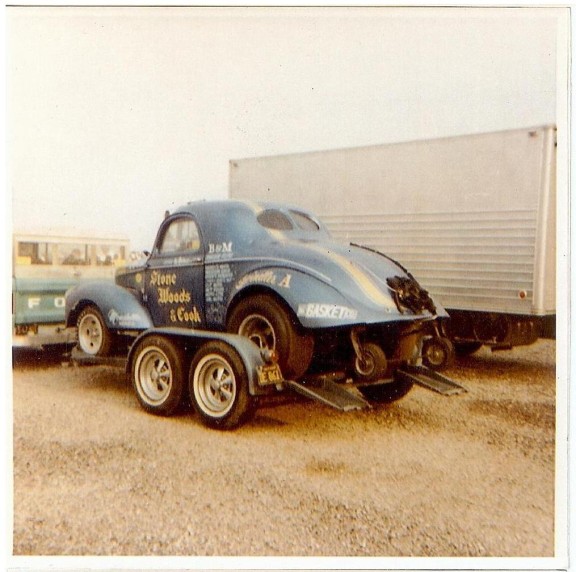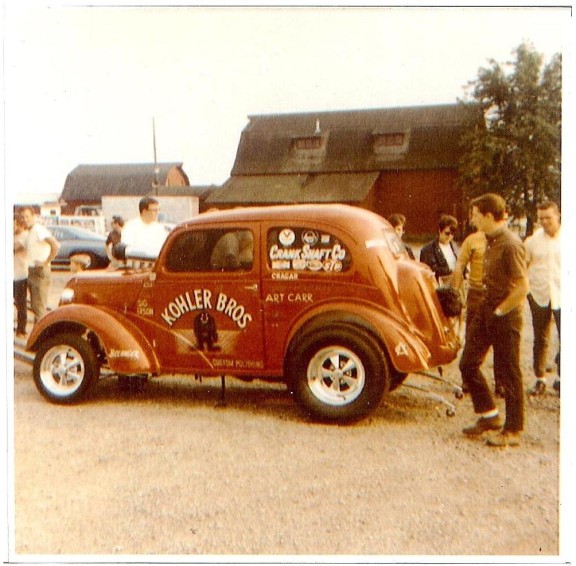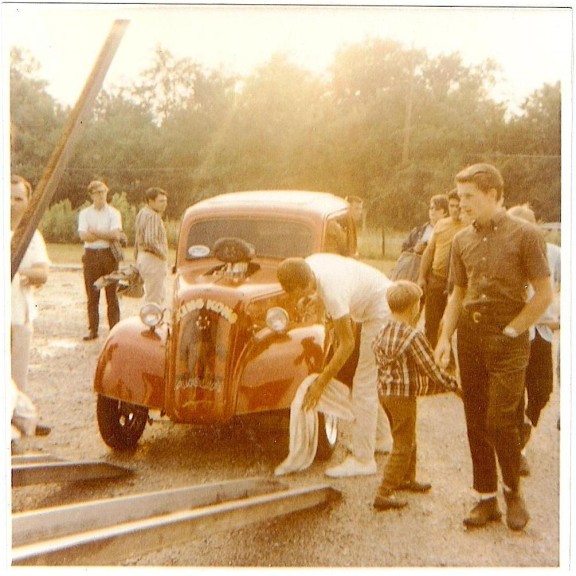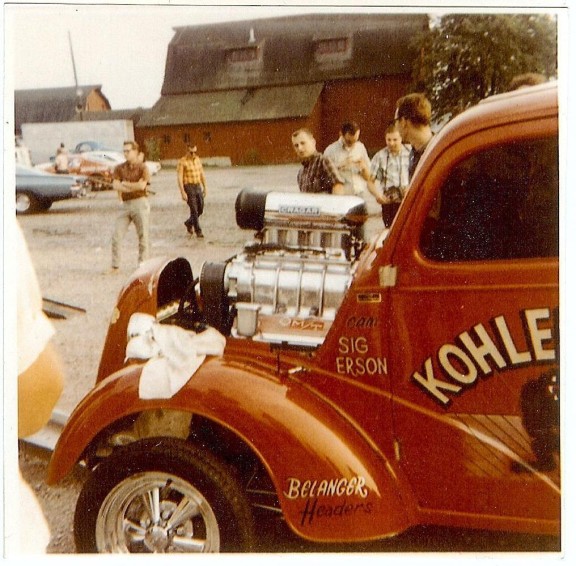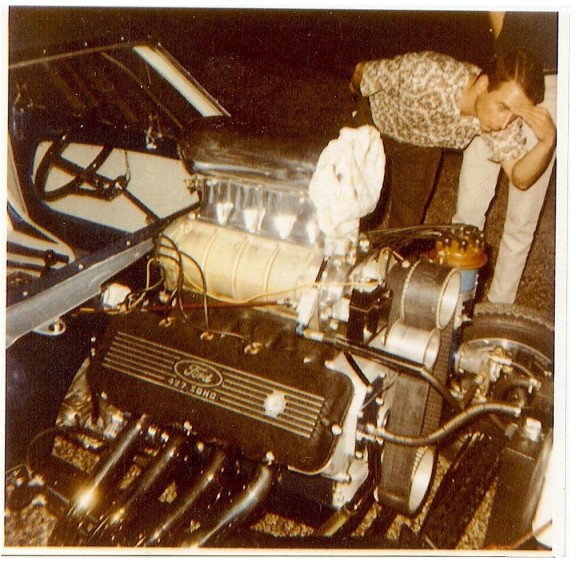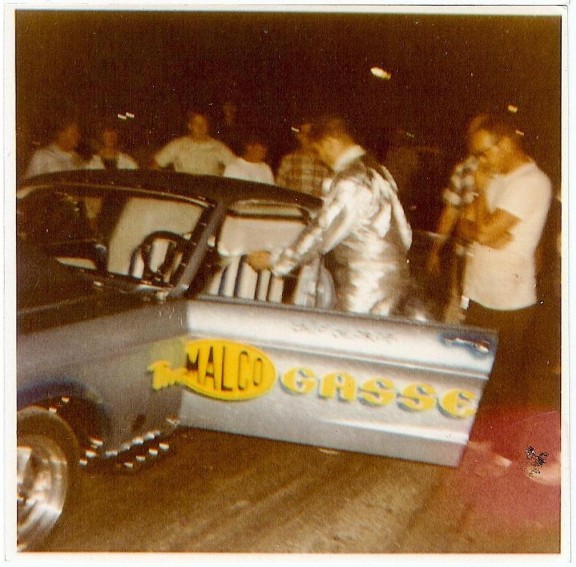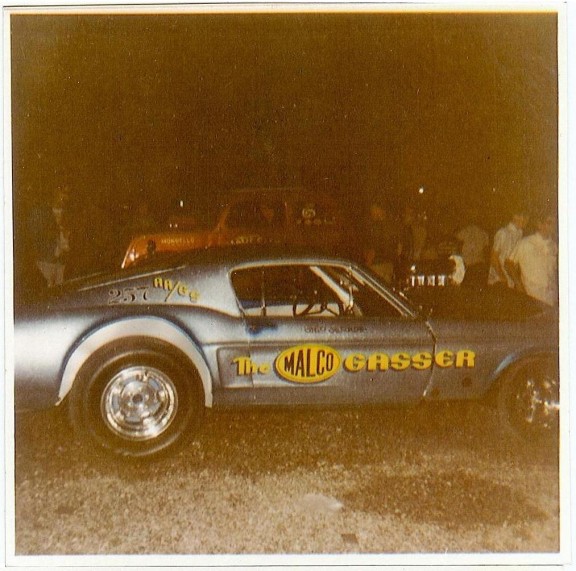 ---
---
Dad drove this car on several Different occasions; I have to assume that is because he was a talented driver, if you look in "Draglist.com" you will see he is credited with a couple of records in this Car!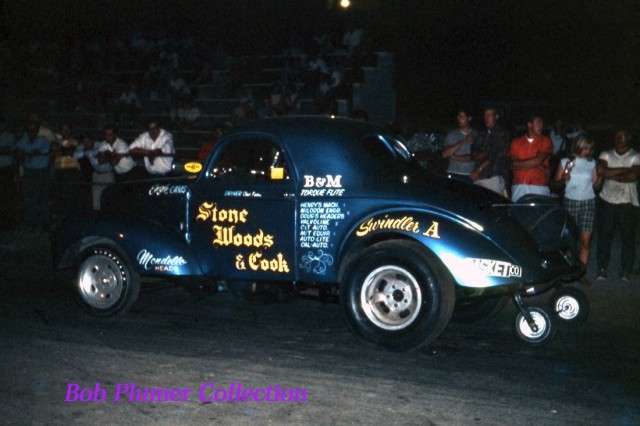 Thanks for sharing your Photos Bob Plumer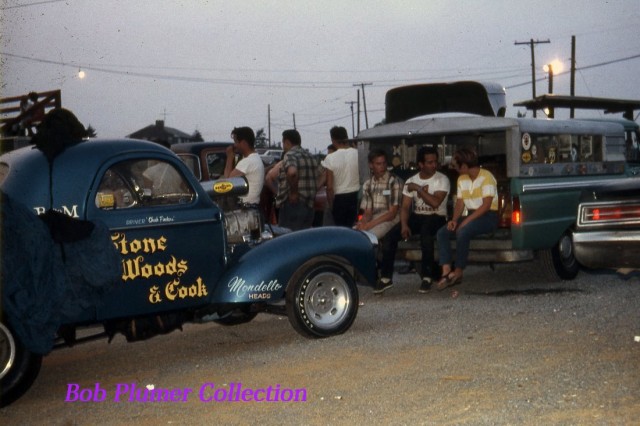 It's always neat to see my dad with the cars he drove. Dad toured the car and drove it on many occasions. He even got a few records in the "Swindler A". I am very grateful for all who share their Photos Thank You Bob. "My dad is the guy sitting in the middle of the tailgate.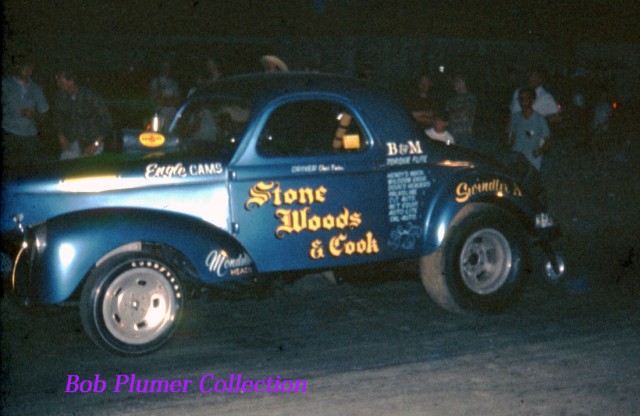 Another Great shot from Bob Plumer
---
---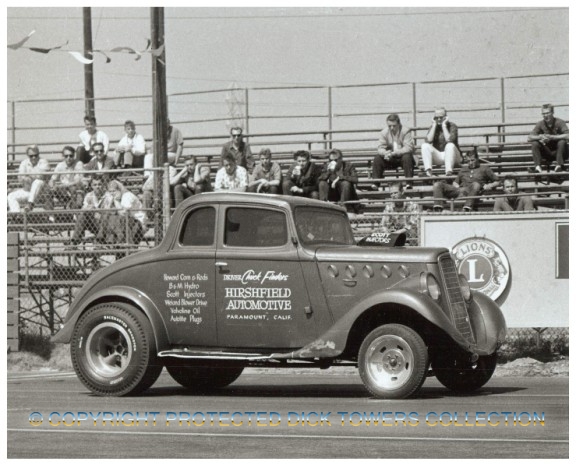 Chuck Finders Driving the Hirshfield Automotive at Lions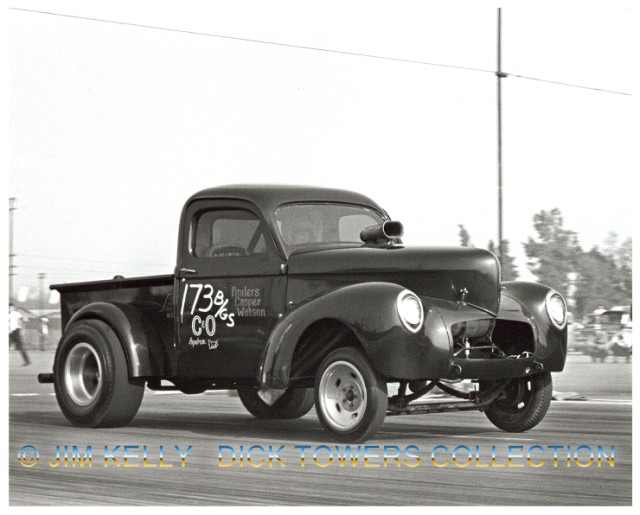 Chuck Finders in a new entry for the 1963 Winternationals Pomona Calif.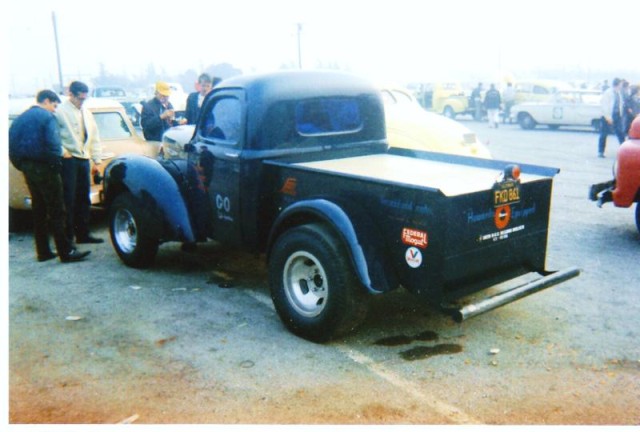 Ptoto by Roy Baggs, Notice the Rear Rims are switched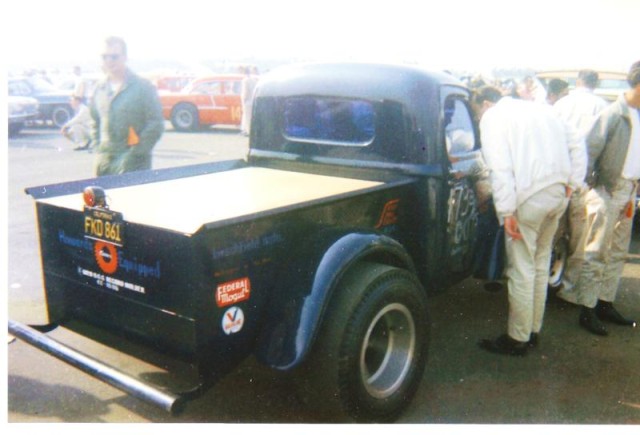 Ptoto by Roy Baggs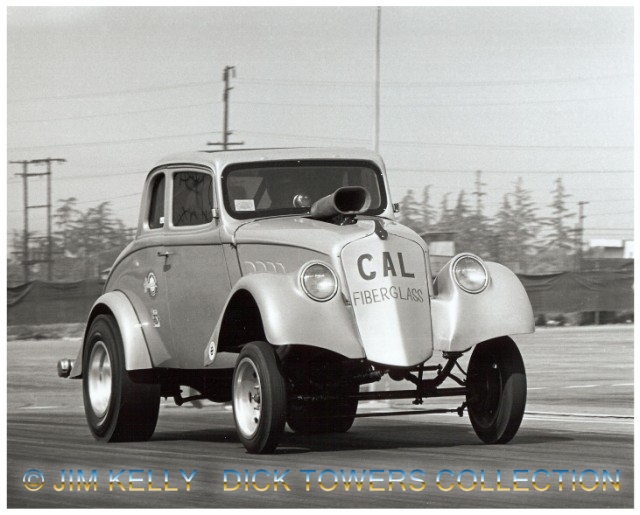 Shake down runs, befor it was lettered. Hauling it home that night and lettering it then heading back in the morning. (If you know my dad you know this is how he opperated everything getting done at the last minute.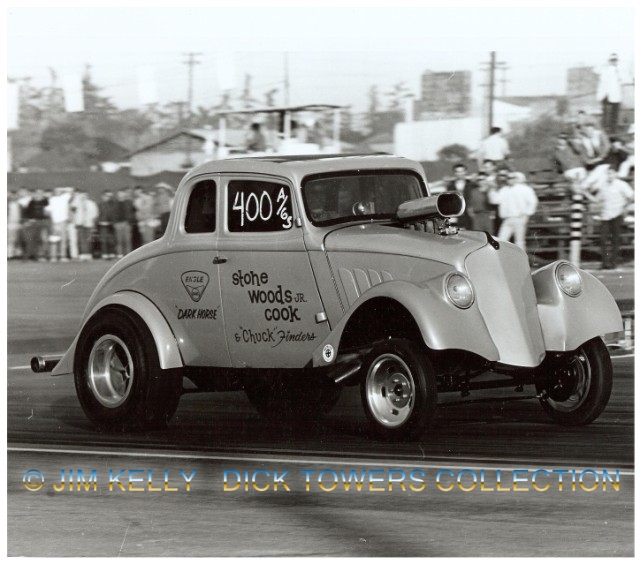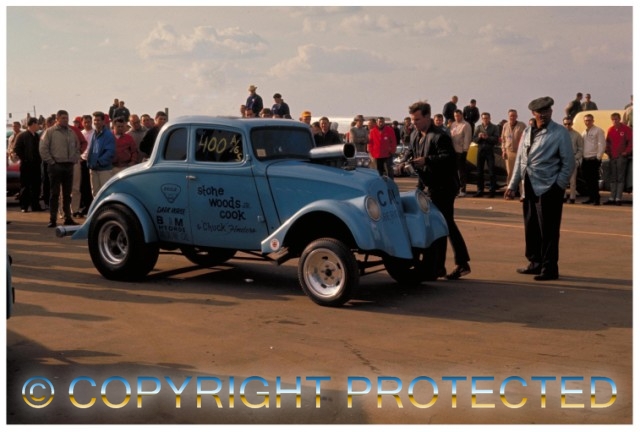 You can see slight differences in the lettering (Look at the Grill).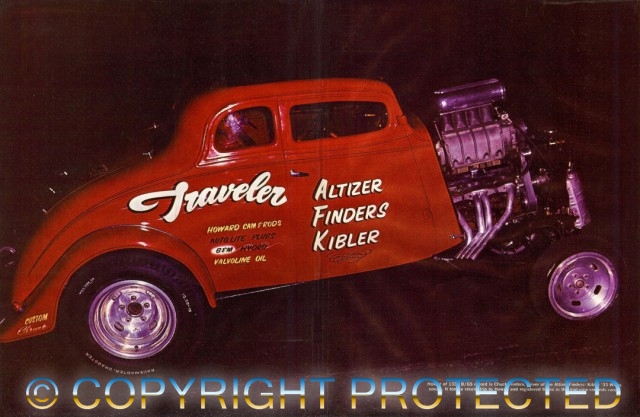 This was a Centerfold in Drag Racing Magazine.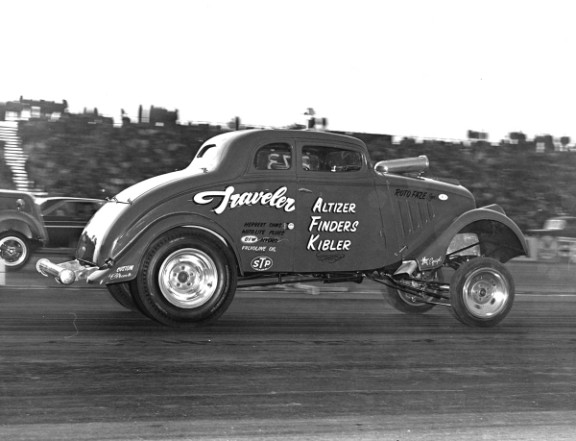 A Beautiful Shot of the Altizer Finders Kibler By Renound Photographer John Durand.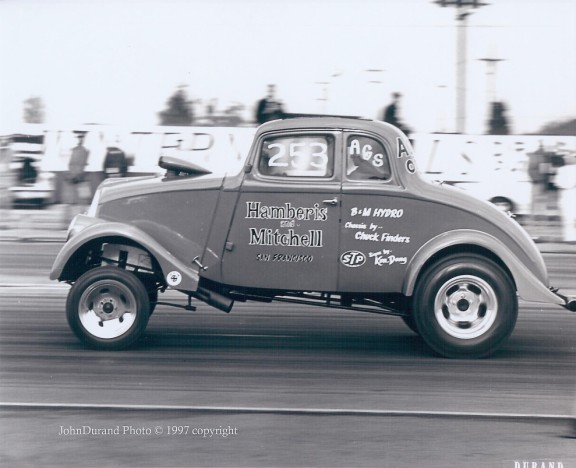 The first paint scheme of the Hamberis & Mitchell Coupe from San Francisco, Photo by John Durand.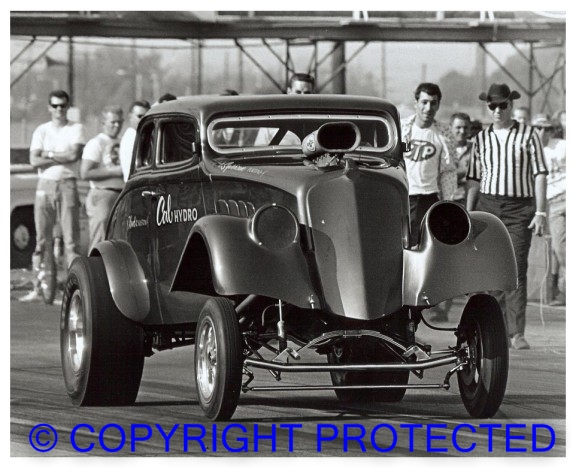 By Photographer Jere Alhadeff, at Lions Dragstrip.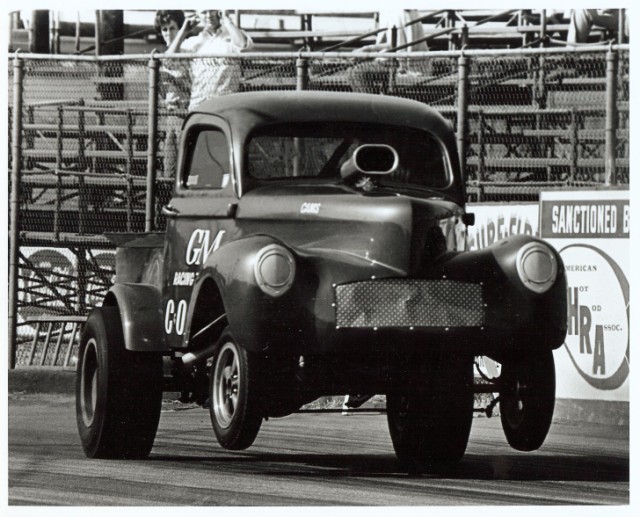 Photo by Jere Alhadeff, at Lions Dragstrip. I have a several stories on this Race car at the present time I believe it is a later version of the Finders Casper Watson C&O Truck. Many parts of this appear to be similar? Jere told me he did not start shooting until 66, so this shot would be a couple years later than the Finders Casper Watson Truck. Jere's comment on the "Date" has thrown me but I would think he knew when he took the shot.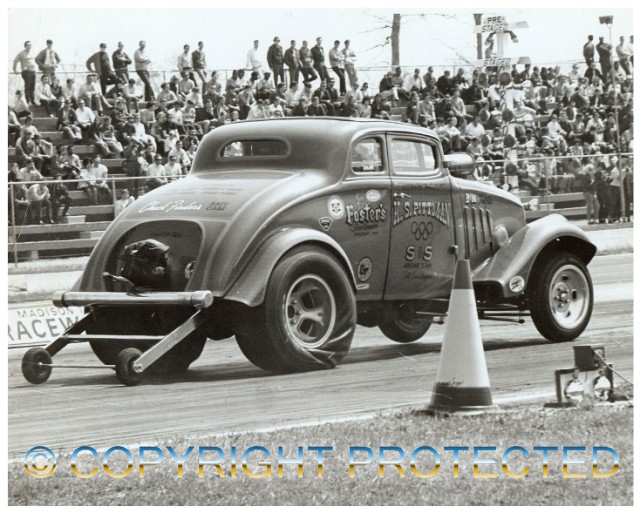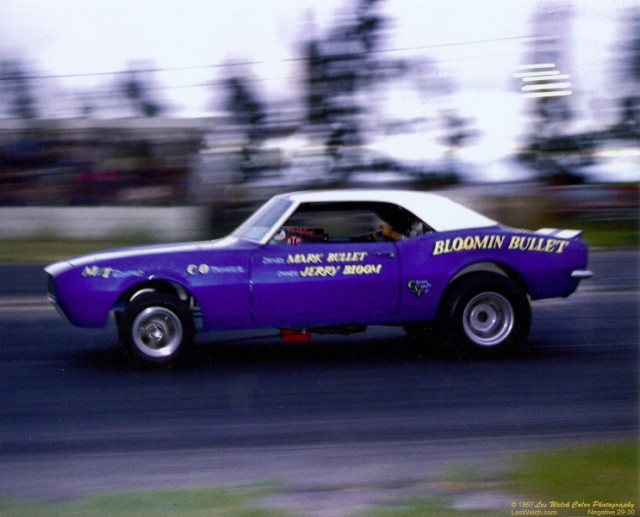 A Beautiful Shot of the Bloomin Bullet by Renound Photographer Les Welch.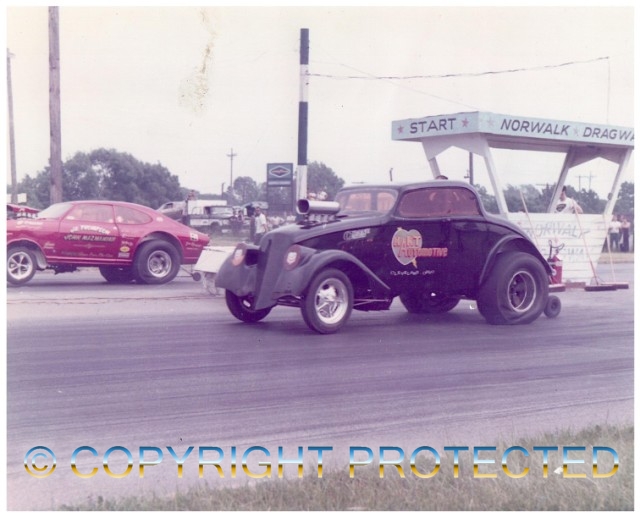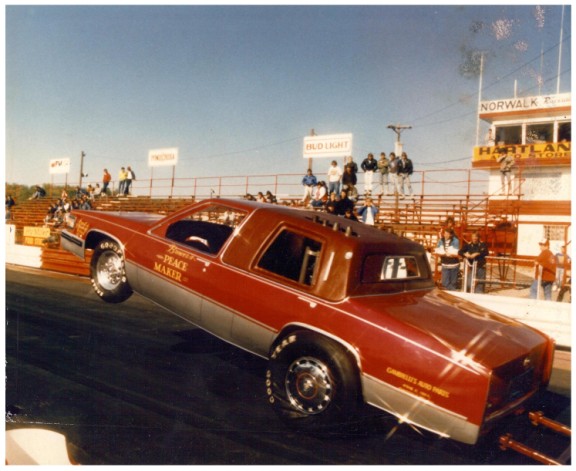 I Worked on this car with my dad back in the 80's. I was trying to talk him into letting me move back and work with him, but he just wouldn't let me.
---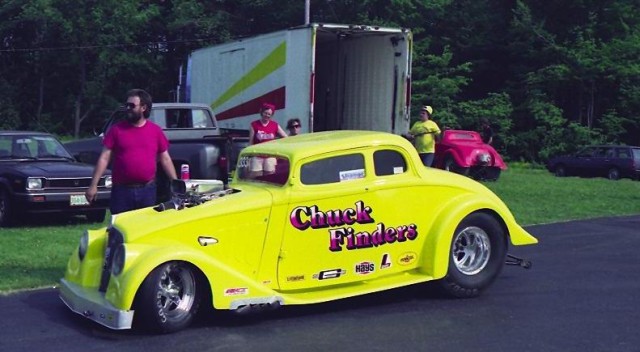 This group of shots, is part of a deal my dad put together as a Two Car Match race effort in the eighties.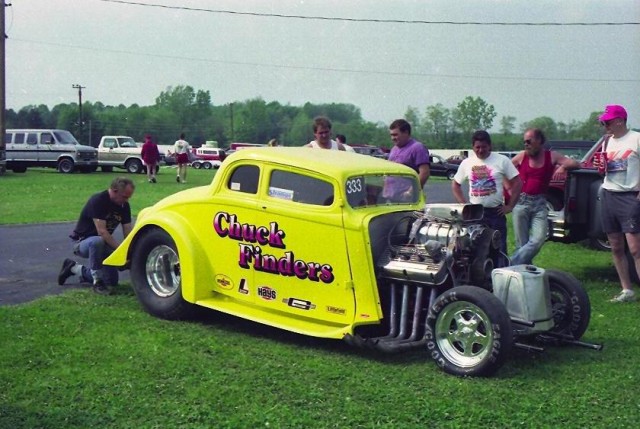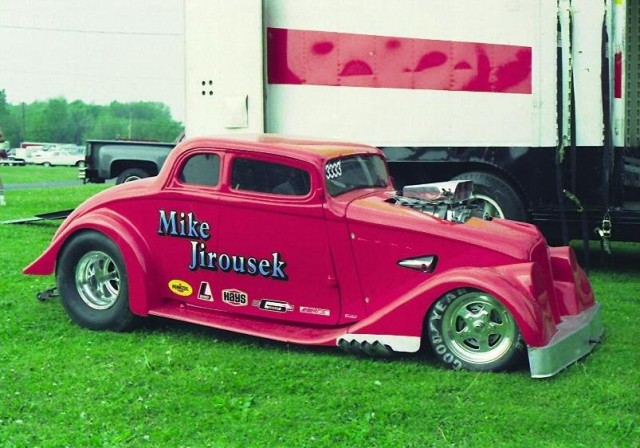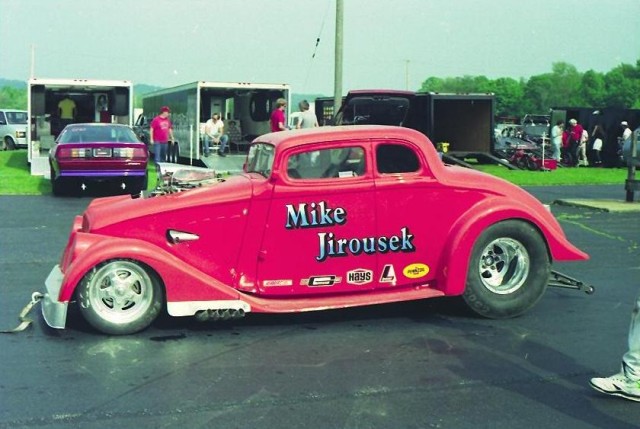 ---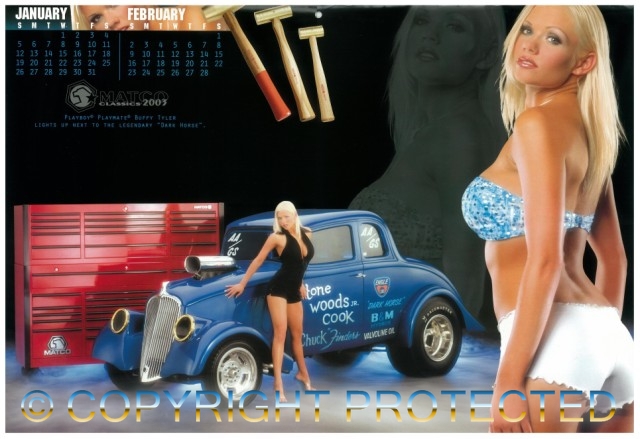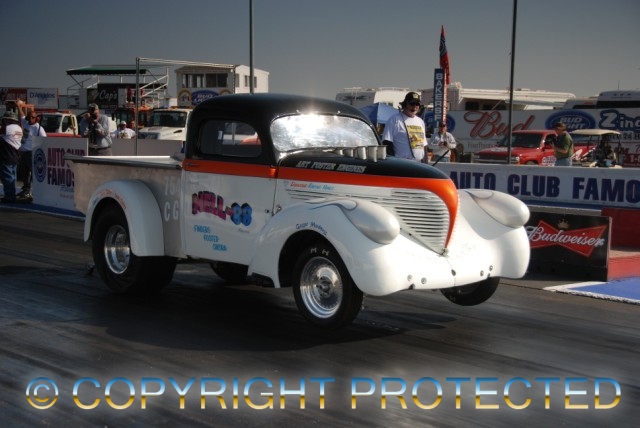 Dave Miller and I spoke recently, What a Great Guy... This Truck is one of the Last Race cars built by my dad, due to Health issues Larry Sikora helped out with alot of the Welding And Fitting Chores. If you happened to be down Flordia way drop in to the Don Garlits Museum of Drag Racing, and see this special Race Car. Dave even made a Kind Gesture with this truck, after it was finished and changed out the Injection to the 3 X 2 Carb Setup that my dad had designed for a 6-71 Super Charger. Thanks Dave!

Half of these cars were built by my dad, Some from the early Sixties all the way up to 2000's I'm not sure about all of them but Ron Bizo truck (Jeff Cryan and Jerry), Hellacious (Bob Sarkisian), Finders Keepers (Dave Cobb) Not sure on the rest. Photographer Unknown
---
---
Updated 9-8-2011 The Funny Cars!
The Cars here are Cars "Once Again" Owned Raced and or Built by my Dad. I'm going to start this section with his Chuck Finders Fire Brewed Car, This Car the 1949 Anglia was basically part of a group of cars that brought an end to the Gasser Wars and Paved the Way for the Modern Funny Cars. You can read a complete account of these Cars, "The Outlaw Gassers" in our Magazine Section(March 2003).
And to Repeat my self, for two+ years I have been collecting stories and more photos, if I have left off "Credits" for your Photo please just remind me and I will glady add your name, The stories, well I have done all I can to verify their accuracy... Not a simple task, but I decided I need to start getting the larger collection up here for the sake of History, So If I'm wrong... Just drop me a line and I will make the correction, (Just Provide your documentation, I'll be greatful). Thanks Chuck Jr.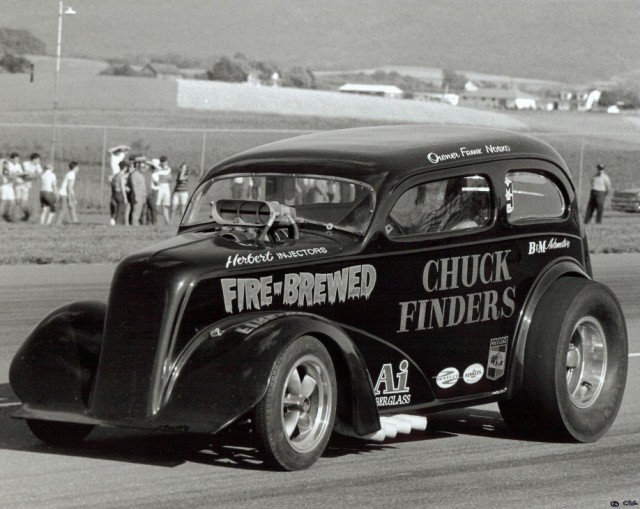 This Beautiful Photo is from Professional Photographer Carl Rubrechet. (Thanks my friend).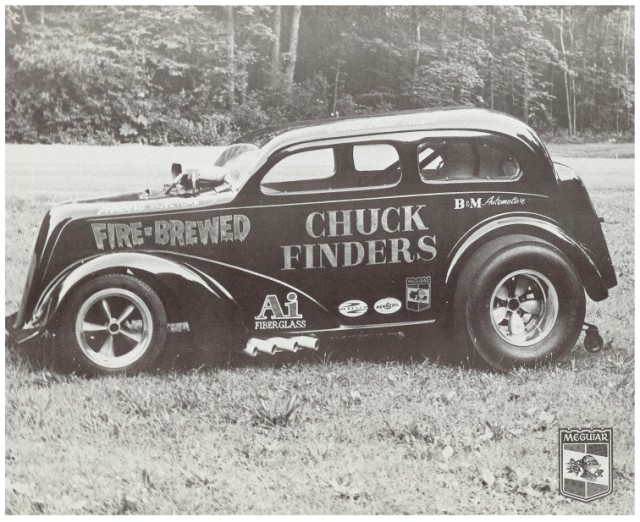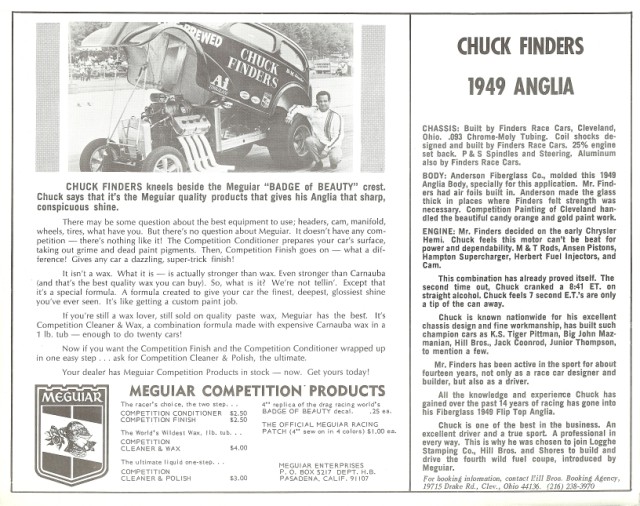 My Dad's First Hero Card Part of the Touring "OutLaw Gasser Circuit"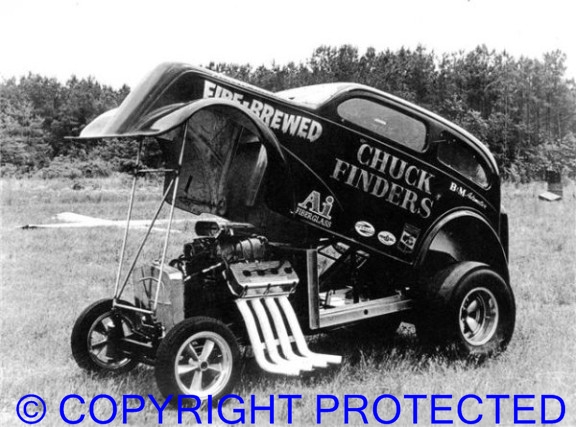 Photographer Uknown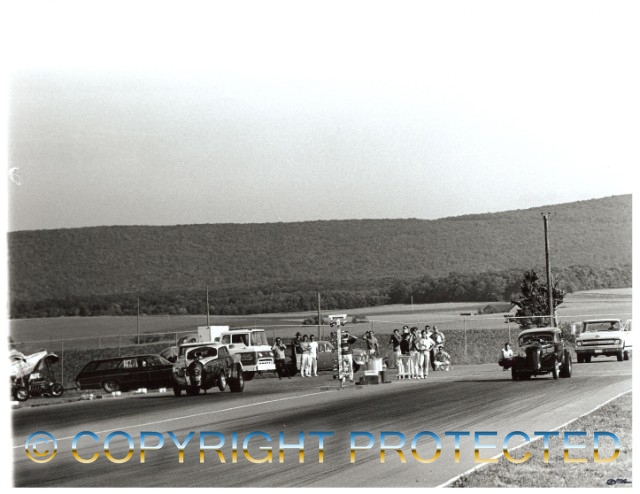 Photo by Carl Rubrechet.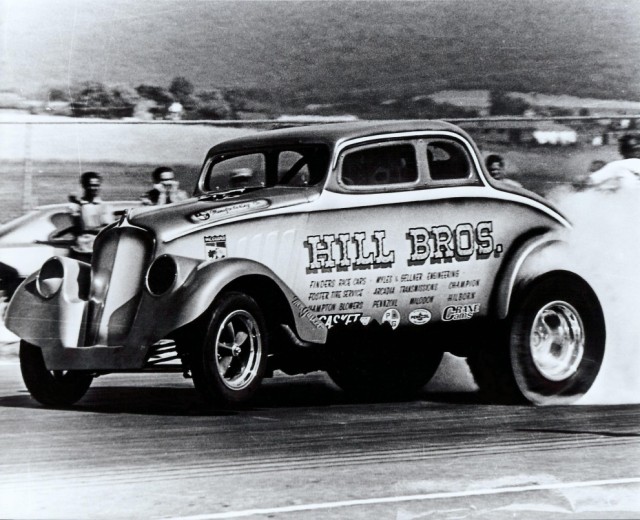 Photographer UnKnown, This Hill Bros Car was one of the Cars on the Outlaw Gasser Tour, My dad built this car, it's a one piece flop top design. (So part of the Funny Car Section).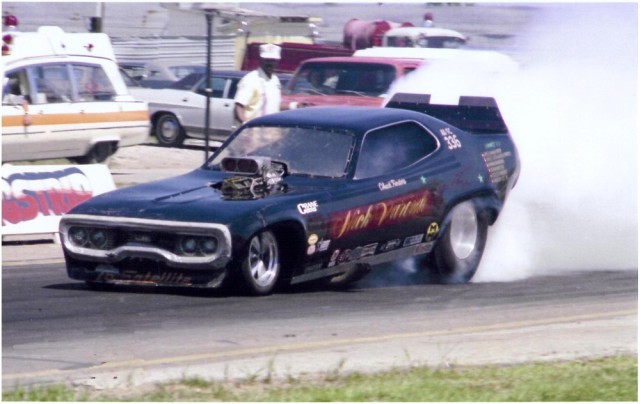 Photo Taken by Mike Sopko 8-8-76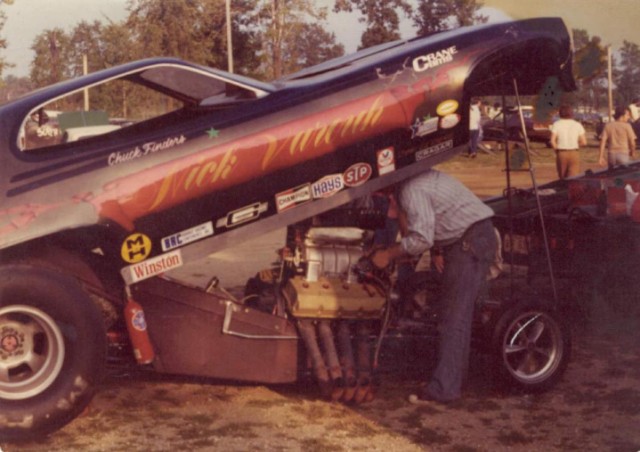 Photographer UnKnown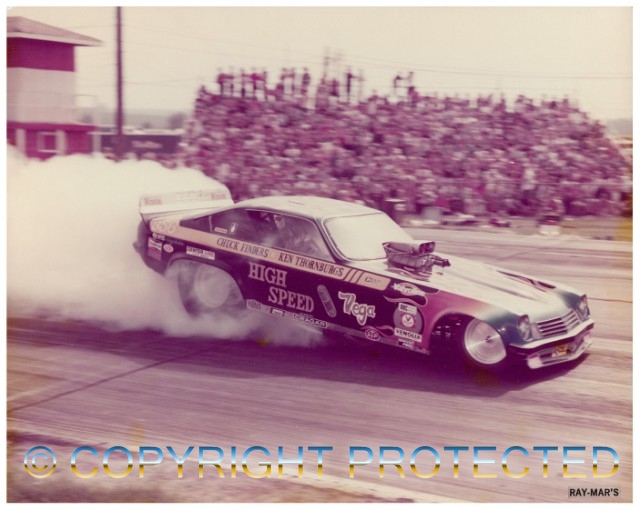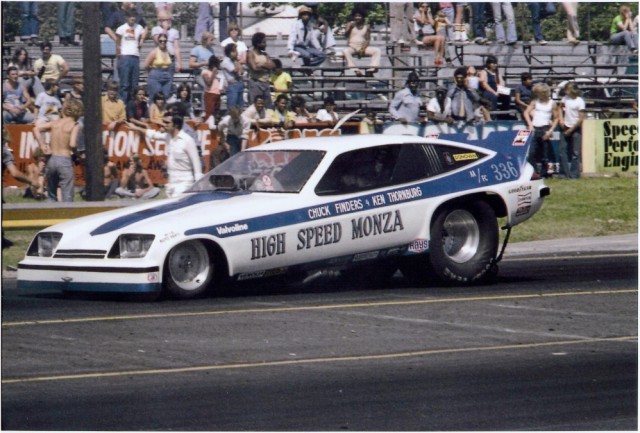 Another Beautiful Photo by Mike Sopko Photo Taken 8-14-77, two weeks before my dad's Accident.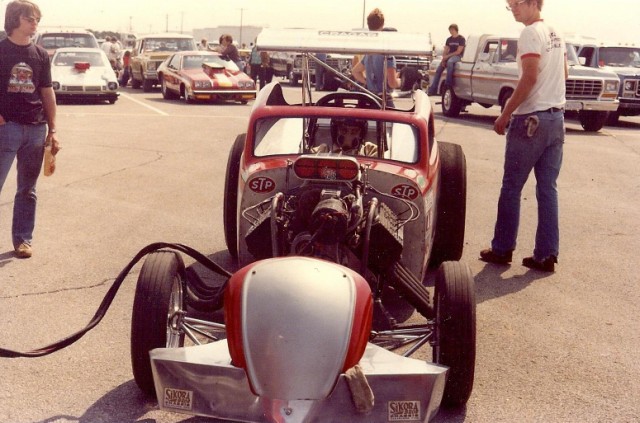 This was one of the first trips in the car my dad designed in a dream while recuperating in the hospital in 1977, he did not stop Racing just because he had the accident, I'll post the article describing the accident and the Time line in here a little later, but these shots are of the early "Shake Down" runs on this car.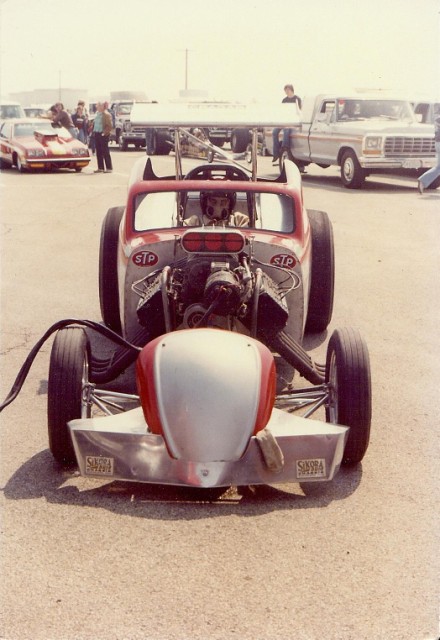 These three shots are from Hank Wetmore's Collection.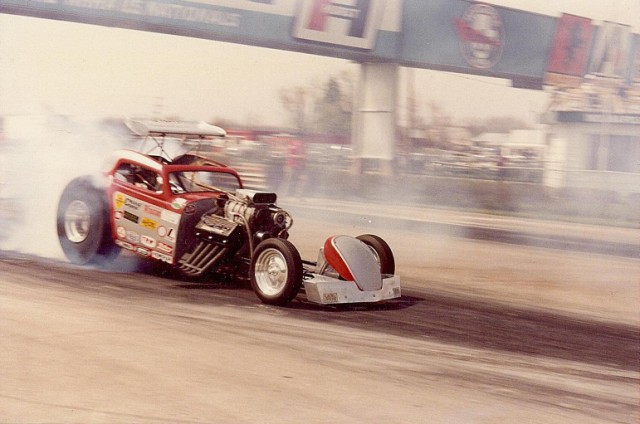 Hank has shared many stories about my dad, this was the first National event after he lost his Leg!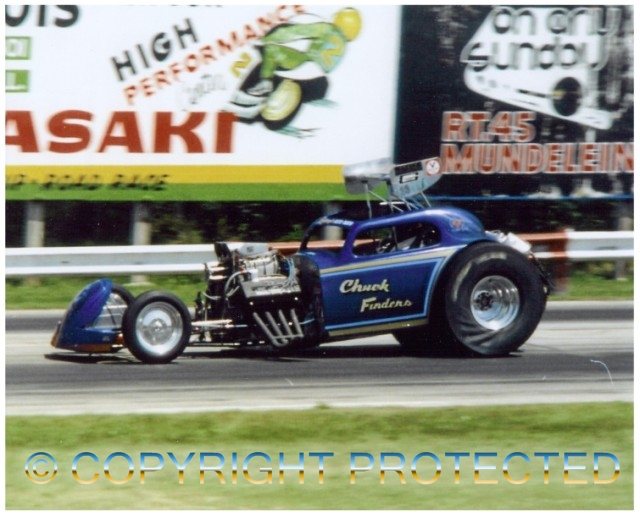 Photo by Mike Sopko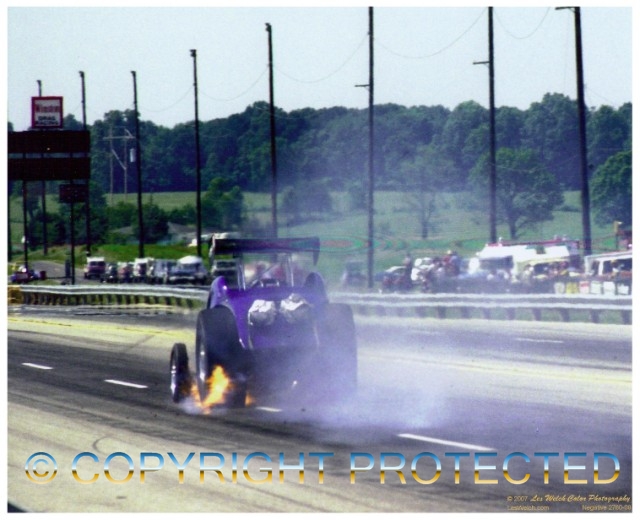 Photo by Les Welch Color Photography