Racing Links
Don Garlits Museum of Drag Racing Ocala, Fl
Jr Thompson Drag Racing Legend
Great Lakes Dragway Hall of Fame
Bob Finders Chassis components RBP Mfg.
Racing Publications, Magazines
Teams We Support
Our Venders
Check Back Soon... We're In the building Stage
Chuck Finders Engineering
P.O. Box 35812
Tucson AZ. 85740-5812
Race Cars Hot Rods Street Rods Our Fabrication Service
Welcome To Chuck Finders Engineering
Comming Soon! Our New "Next Gen" Frames 1933 and 1941 Coupe Frames! Check back after the first of the Year for Pricing and delivery schedule.
Chuck Finders Engineering is now offering a complete line of fabrication service in Tucson Az. We're building Nostalgia Gassers and the next generation of Hot Rods, Street Rods and Race Cars, give us a shout,"You'll be glad you did". Come on in and see what we have to offer...

Thank You! Chuck Jr.
1-520-237-6981
50 Years of Drag Racing Records
Congratulations Dad on your 50th Anniversary!
1962 Winternationals Winner A/GS
Chuck Finders Sr. Drag Racing Records
Chuck Finders History
Updated 3-15-2012
This Page is dedicated to the History of Chuck Finders Sr. As I am able to collect and verify, "Pictures, stories, Cars, Events and Builds", I will include them here.
Shirts And Posters
We have a variety of Items included here: Shirts, Posters, Hats and a few Select Models.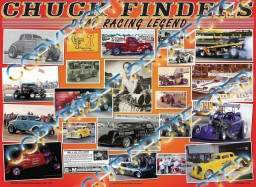 About Us
Chuck Finders Sr. Chuck Finders Jr. Bob Finders
What are we about Who are we...